Smiling relaxed faces. A moment to sit and work together. Completely different than before. An opportunity to get to know yourself from a slightly different angle. A unique dimension of integration that results in a deeper level of understanding. This is just part of what happens behind the scenes on workation with the team.
Another world at your fingertips
We had been planning to launch our workation for a long time. We wondered how we should choose a location. For how long should we rent a house? How big should the house be? What comforts to provide? How to fill the schedule? Should it be in Poland or abroad? We considered various models. In the end, we settled on some simple rules.
We should rent a house for max. 8 people, close to one of our offices, so there weren't any problems with the commute, which can be booked in cycles of up to 4 days with changes twice a week. Somewhere away from the world, that would give us a sense of detachment from reality.
Near the Land of Open Shutters, in Podlasie, near our Bialystok office, and just over 3 hours from the Warsaw office, we found an incredibly atmospheric place where Mrs. Irenka welcomed us warmly.
Great Internet, silence, fresh air, a large table in the kitchen, a fireplace, deckchairs, hammocks, and green as far as the eye could see. And a dark night sky that allows you to sleep well, something which is hard to find in the city. That was all it took for almost 40 people to come back after just a few days of working together full of the proverbial joys of spring.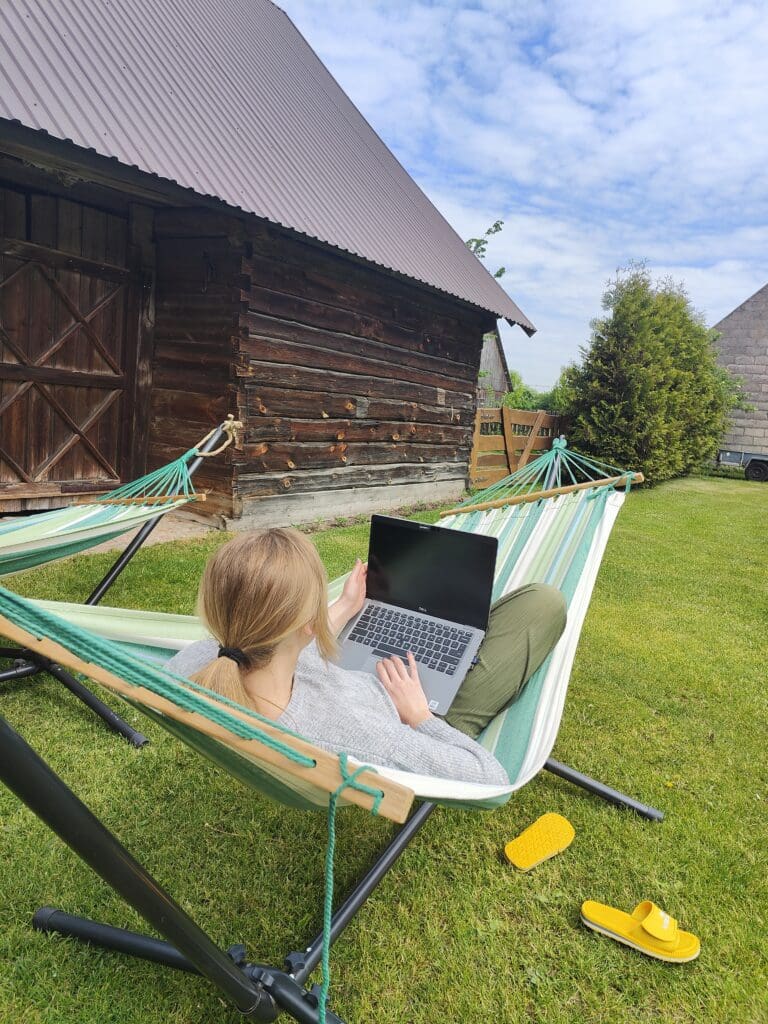 Full house during workation
There were no problems with filling out the schedule. In just three weeks, 6 teams passed through the house. At most, a total of 15 people slept in the cottage, with tents pitched on the lawn. The record holders, among them the leader of one of our biggest teams, spent over a week in the house. Some came twice to integrate with other teams as well. We came back feeling determined that we have to do it again.
Authentic wellbeing
It turns out that you don't need luxuries to encourage people to spend time away from the office. That after two years of the pandemic, people just needed to sit together by the fire, wander around, ride bikes, and enjoy working in a relaxed environment, with people they like, in a slightly different mode than just work. A cottage in Podlasie was enough, to naturally make our team slow down and slightly change their approach to work.
Workation at its best
There is a lot of discussion about how effective remote work is. There is talk of a decline in the quality and productivity of people working remotely, burnout, a decline in creativity, and a loosening of relationships. Hence a strong need to return to hybrid work, or completely to the office, which companies such as Twitter, Disney, and Apple have decided to do. Such a return to the office, for many people who are used to the benefits of remote work, is a real punishment that negatively affects their job satisfaction.
After the experience gained after the first workation, we have a feeling that this is one of the methods that allow even people who work mostly remotely to feel part of the company. And that it allows them to build relationships and achieve better results in their daily work. Each such activity is also an opportunity to increase attendance at the office, which is and will remain an option in our case that can be used.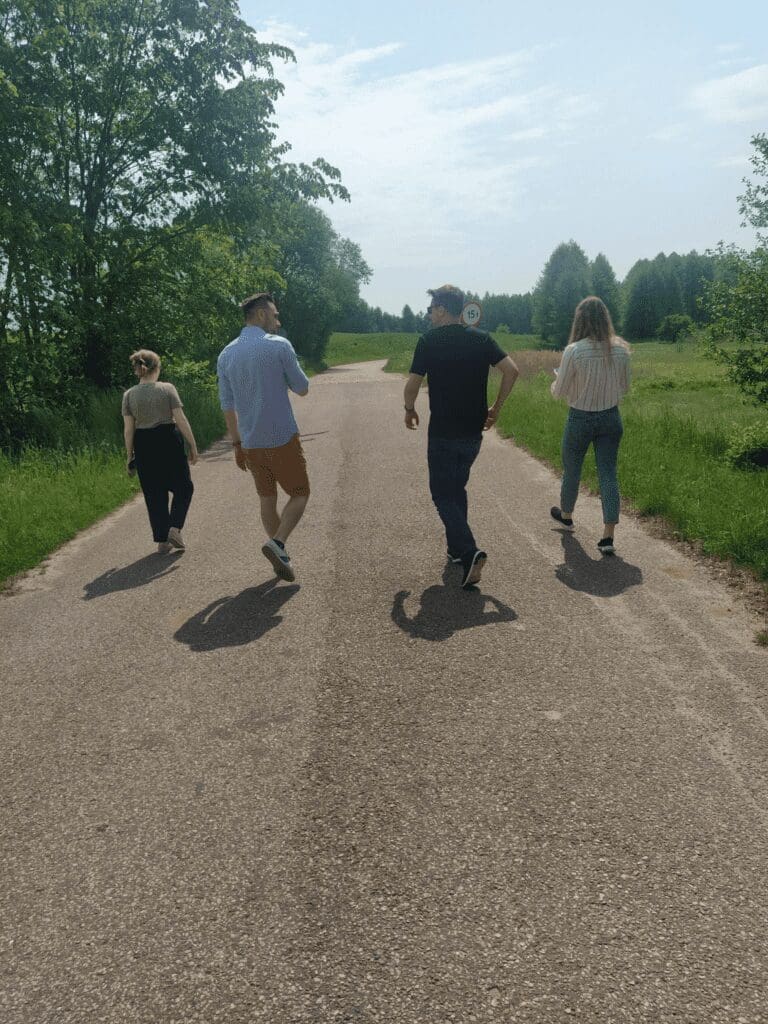 What's next?
Probably another workation. This time in the fall. Maybe in the forest, maybe by the lake, or in the mountains. We do not know yet. What we are sure of, is that it's worth it. This is one of the most interesting benefits in my opinion, which not only attracts the attention of candidates, but also allows us to take even better care of the atmosphere, well-being, and the unique spirit of Inspeerity.
If you want to see more on how we spent our time on workation – visit our Instagram.