Mic Check VIII(Próba Mikrofonu)
Get ready to clear your throats and practice your public speaking skills because Proba Mikrofonu 8 (Mic Check) is here!
Created to improve the speaking abilities of our team members. Mic Check has become a platform for anyone to take the stage and speak about any topic.
Organized in-house, Mic Check allows everyone to develop their voice, build confidence, and practice speaking in front of an audience. This time, we are back with a new lineup of speakers and surprises to celebrate our eighth edition.
Dawid Binczyk was the host, helping to keep the night flowing smoothly. But who else took to the mic?  
Join us and see what happened at the eighth event.
Practical guide: Using ChatGPT for efficient software creation
First on the mic was Dimitr Snigurenko with One-Stop Shop: Go from Zero to Pro in just 15 Mins with All the Docs You Need. A catchy title. Dimitr described how the use of modern tools can help speed up development time. The talk centered on how to make developers more efficient in their work.
The main topic of Dimitr's talk has been dominating headlines, ChatGPT. He took the audience through how to make the most of the AI tool to create software. Using Vue CLI, and giving tips and tricks along the way, Dimitr gave a practical, step-by-step guide on how to use ChatGPT in the software development process. Indeed, taking everyone from zero to pro.
Unlocking success: The key soft skills for developers
Next up was Sebastian Dąbkowski with advice on "How to Develop in IT?" The talk centered on the soft skills that developers need.
Taking inspiration from different team members he has worked with over the years. Sebastian took the audience through the problems developers face at different stages of their career.  Taking the time to tell a story, he explained the roadblocks developers have and the recommended reading to help get over them.
In the end, Sebastian argues that the most important skills any developer should take the time to learn are:
Communication
Solidity
Troubleshooting
Expression of opinion
Creativity
Teamwork
Responsibility
Time management
Practical techniques: Wardley Maps and DDD in action
Next to take the stage was Wojtek Kasa and his talk on Increasing Business Value with Wardley Maps and Domain-Driven Design. Wojtek shared some valuable advice on how we can use Wardley Maps and Domain Driven Design (DDD) to level up our software development process. Describing how Wardley Maps help us see the bigger picture of our business strategy and make smarter decisions that align with what customers want. The talk gave some practical techniques and frameworks to boost business value by combining Wardley Maps and DDD in software development. By concentrating on "why" we do what we do, Wojtek gave the audience something to think about.
Do you want to practice public speaking with us?
Unveiling the devil in a jar: The power of AI
Last to take the mic was a regular to the night, Adrian Oleszczak. His talk centered around AI, with the interesting title, Devil in a Jar. Starting by talking about how AI is a hot topic throughout different industries. Adrian spoke about the current state of AI. He explained how it can be used daily. He showed a couple of tools that could do magic. As well as discussing how dangerous it can be and the future relationship between humans and AI.
The magic of the presentation came when Adrian demonstrated how, with the use of Elevenlabs, you could produce content in different languages and styles. Having trained the AI with his own voice, Adrian was able to generate a story and create an audio version of it. Showing how AI could be used to create content. 
Proba Mikrofonu is part of a larger, ongoing project to build the soft skills of our developers. Apart from the larger events, we also run a series of Podcasts, written, and designed by our team. The Bluzbothers podcasts are a way for our developers to share personal insights, stories, and advice about a variety of topics.

Come listen in on how our developers are sharing their knowledge.
Bluzbrothers Podcast [PL]
Listen to relaxed conversations between programmers about successes, failures, and interesting things happening in the IT industry. 
Discover the latest updates from the 10th Spring IO Conference in Barcelona. From GraalVM to CRaC, dive into the future of Spring Framework.
Read More »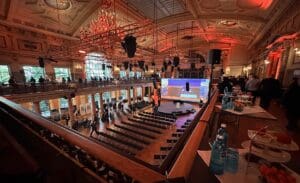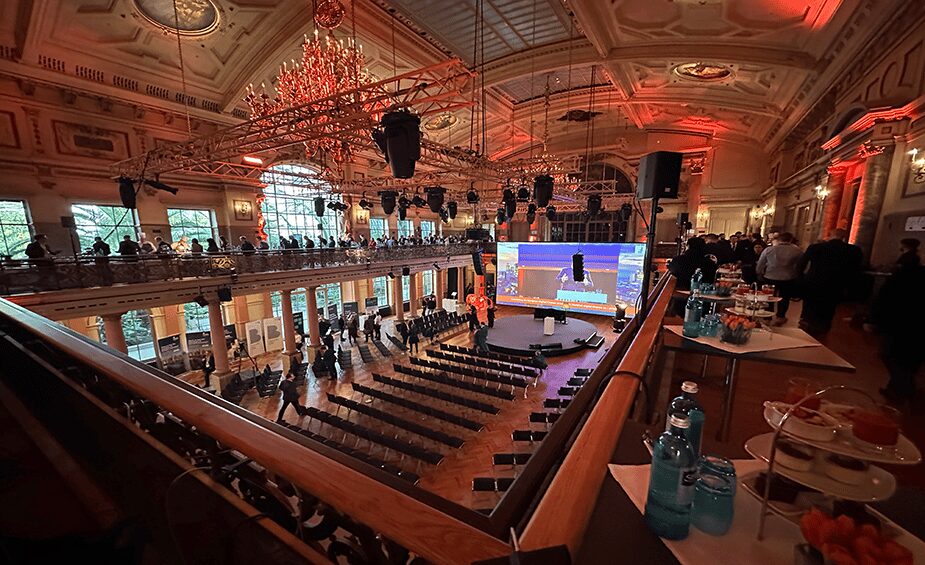 With the financial landscape set to change, here are three trends that you should know from the Frankfurt Digital Finance Conference.
Read More »
Proba Mikrofonu (Mic Check) is celebrating its anniversary. Come see how we celebrated our internal event with cupcakes and quizzes.
Read More »