Mic Check (Próba Mikrofonu) part III
This is Mic Check. This is "Próba Mikrofonu" part III
This mic has been checked… and it works! Karol Wiszowaty, Mateusz Krysztopowicz, Michał Kowalski, Wojciech Kasa & Weronika Zub used their voices to fill the cozy Fama Club room with powerful voices. Four presentations to share experiences, passions, knowledge & a few pretty funny lame jokes (thanks Weronika!).  
Próba Mikrofonu is not only about practicing the art of public speaking, but also about supporting the brave ones on the stage. The record number of participants speaks for itself. We're grateful to the speakers & those who came to listen some great presentations: 
Programmer and what's next?
Karol Wiszowaty knows what he's talking about when it comes to choosing a career path in Engineering Management. He made that decision years ago. These days he is responsible for complex software projects as Delivery Director in Inspeerity. His motivation to do this speech? "I wish I would've known all this years ago".
Karol presented a really honest point of view, going deeper into what it means to have this level of responsibility "behind the screen". Karol admitted that he needed 4 years to collect his thoughts on this topic(!). This was a well-thought-out presentation, filled with honest tips and real experience. Thanks Karol!
Mateusz is passionate about startups. No surprise then, that he is responsible for the internal Sandbox Startup initiative at Inspeerity. At the event, he talked about an MVP – where to begin based on lean startup methodology & the minimalistic concept behind it. In the words of Reid Hoffman, an ex. LinkedIn CEO: "If you are not embarrassed by the first version of your product, you've launched too late." – . 
Following this idea, Mateusz has launched 7 startups in 12 months. He shared an experience of launching one of them, based on NoCode tools. At the same time, Mateusz took us through the first steps of writing an application in NoCode. It is an interesting approach to testing ideas quickly. However, it doesn't always mean that someone with "NoCode" experience will be able to use the full potential of the tool.
Is AI already everywhere or is it a big fake?
Machines learning from experience are adjusting to new inputs and performing human-like tasks. "Most AI examples that we hear about today – from chess-playing computers to self-driving cars – rely heavily on deep learning and natural language processing". Michał took us through his thoughts on Artificial Intelligence, trying to answer the question – is it for everyone or is it a big fake?
Michał shared some interesting examples of tools based on AI. One of them was GAUGAN2, which creates photorealistic images from segmentation maps, which are labeled as sketches that depict the layout of a scene.
Software architect - title or role in the team?
Agile philosophy is that teams are self-organizing and cross -functional. Is it possible to organize a team so that software architecture is agile and  responsibility for architectural decisions is dispersed?
Wojtek presented the concept of "Advice Process", where the number 1 rule is: anyone can make an architectural decision. He took us through the steps, explaining how this can work. Wojtek provided insights based on the book –  "Fundamentals of Software Architecture, an Engineering Approach" by Mark Richardson & Neal Ford.
Do you want to practice public speaking with us?
We've organized a fundraising draw during the event to help Ukrainian refugees.  Anyone who made a donation, could become a lucky winner. Especially for this occasion, we prepared a unique gadget: a Chef's apron "Tasting in Production" + a bottle of AJAX cleaning fluid (long story…). Our colleague, Paweł Bazyluk (also known as the Blazorman for this reason), was the lucky one to win the prize. Congrats!
Discover the latest updates from the 10th Spring IO Conference in Barcelona. From GraalVM to CRaC, dive into the future of Spring Framework.
Read More »
Get ready to clear your throats and practice your public speaking skills because Proba Mikrofonu 8 is here!
Read More »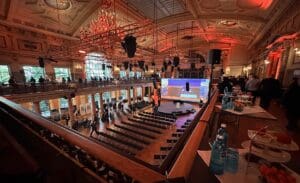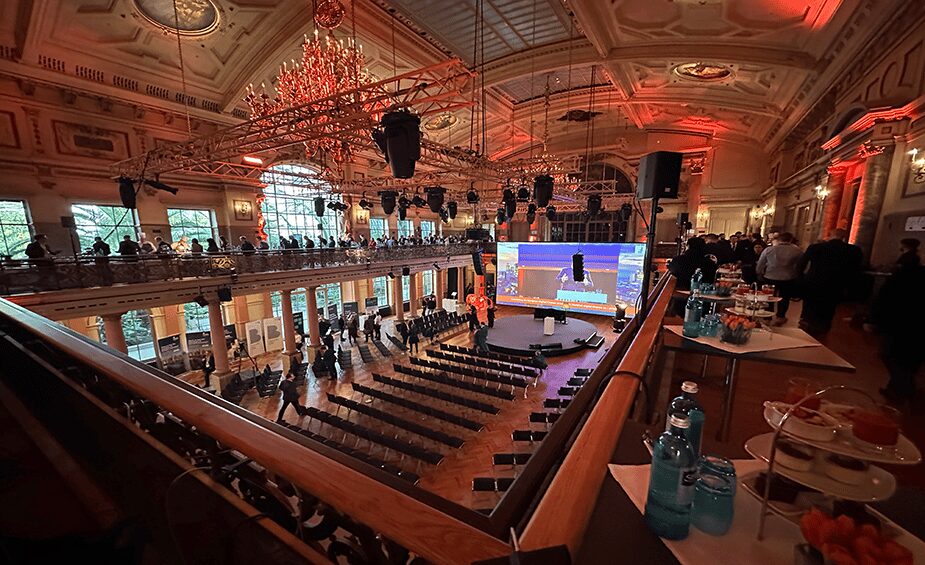 With the financial landscape set to change, here are three trends that you should know from the Frankfurt Digital Finance Conference.
Read More »