Kickstart Europe, Amsterdam
Visiting Kickstart Europe 2022 in Amsterdam, I was reminded of an old joke: "How many software engineers do you need to change a light bulb?" The answer, after some consideration, is simple: "It can't be done: it's a hardware problem!"
At Inspeerity we tend to believe that all problems can be solved by software – great software created by Inspeerity. We sometimes lose sight of the fact that all software needs to run on hardware. Nowadays, as we usually create Cloud software, we often don't see that hardware, and we don't have much contact with it.
Testing, improving, and bring to market sustainable data center solutions
At Kickstart Europe 2022 our team met the people who allow us to have such easy and flexible access to great hardware. It was all about data centres. The data centre industry is growing rapidly; it has grown by 2/3 since 2020 during the period of the pandemic. That's because everyone is using Teams and Zoom for work and then Netflix in the evening for leisure. They all need massive support from data centres.
"FLAP" – Frankfurt, London, Amsterdam and Paris – Data Center Landscape
We also learned a new acronym – FLAP. Apart from DC (for data centre) it's the most important piece of data centre lingo. FLAP means Frankfurt, London, Amsterdam and Paris. These are the cities where the majority of data centres are located. However, new locations are emerging including Warsaw, Poland and Norway. In the former case because land is economical, and in the latter case because there's plenty of ecological electrical power.
A large part of data centre planning has nothing to do with technology. Firstly, they need lots of land and in a good location for internet connectivity, with plenty of backup connections. That's the reason for the concentration in the FLAP countries. As old factories shut down, these become ideal locations, just on the edge of the city, for a data centre. 
There were a lot of banking and finance types at the conference too. Of course, banks need their own data centres. But they are also involved in coordinating the massive investments to buy the land and the power and sell heat and capacity. It's a very competitive business, so it's hard to make a high investment return.
The data centre people, like our software people, need more and more qualified people to operate and manage their centres. There's a massive staff shortage and constant need to get good new people.
Key IT trends in Digital Infrastructure
For 2022 they were identified IT trends with a major impact on the digital infrastructure. It gave us an overview of the direction on how the digital infrastructure is expected to shape up. Following trends were mentioned:
Data sovereignty in a hybrid/ multicloud world
Many organizations choose to embrace hybrid models and try not become too dependent on a single cloud. It allows to be in control over the data at the same time and comply with data regulation.
Distributed (edge) computing/ distributed cloud
The data center landscape across Europe will change significantly. First, we'll witness a growth in retail colocation. Finally, we will find more built-to-suits across Europe, in combination with new hyperscale developments.
New IT applications are data burners
In the consumer market, like social media and gaming, 2022 will be about building the metaverse. There's still a lot of debate on what the metaverse is and what is should look like. The only thing that is absolutely clear, is that it will require massive amounts of data and the infrastructure needs adapting to accommodate these requirements.
You can download the full report from the conference here.
Great to have seen so many experts in real life again
For us, the Inspeerity Team, it was the first time after the pandemic to meet people face-to-face and without masks. It was quite a culture shock to see 1100 people together in a relatively small hall. And it was a great feeling to meet new business contacts over a glass of wine, a beer or a coffee rather than over a keyboard and on a screen. It did mean that we needed to polish our shoes and press our trousers because they are not seen on camera. But it provided a great opportunity to show off our Inspeerity socks! 🙂
See you next time!
Participation in this event was possible thanks to Go to Brand project. Read more about it here.
Discover the latest updates from the 10th Spring IO Conference in Barcelona. From GraalVM to CRaC, dive into the future of Spring Framework.
Read More »
Get ready to clear your throats and practice your public speaking skills because Proba Mikrofonu 8 is here!
Read More »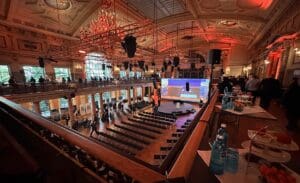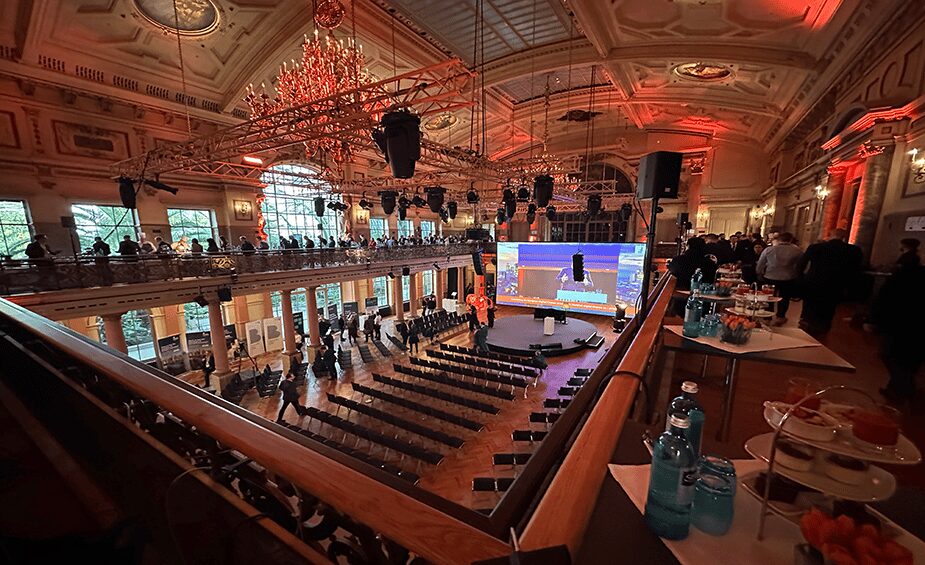 With the financial landscape set to change, here are three trends that you should know from the Frankfurt Digital Finance Conference.
Read More »