Technology as the enabler of better human connections…and what does it have to do with GITEX 2022 in Dubai?
To start with, as soon as I got involved in the world of software, I came up with a concept that I very much identify with and that has guided me ever since.
Technology as the enabler of better human connections at the core of a digital future. This is about making digital interactions feel more human and more personal.
Having this principle in mind I can summarize Gitex 2022 right at the start of this article;
Gitex 2022 was a priceless opportunity to have interesting discussions face-to-face
Online meetings are great to follow up with prospects and elaborate on offers, however it can't be used to establish initial trust and cultivate relations with them. There is a saying in Dubai, which states that only after you get to meet someone's mother, they'll consider doing business with you. The importance of human interaction and chemistry cannot simply be overstated.
Moreover, all connections made in Dubai with open-minded people not only took me on a technology ride but gave me valuable insights into their stories and business journeys.
With a few of them we begin our own, new journey.
First impression that encouraged me to discover more
My first impression of Dubai was just how modern and cosmopolitan it is with the feeling of countless languages, cultures and nationalities. Seeing this diverse and extensive human mosaic was a pleasant experience and definitely one to remember.
''The world will see a historic new era driven by technology'' – UAE vice president and Dubai ruler Sheikh Mohammed bin Rashid.
Gitex Global was launched in 1981 and became the largest technology exhibition in the world.
Imagine two million square feet with 5,000 companies from 90 countries, including 35 start-ups. With dozens of visitors not only coming by for business opportunities but also to discover that humanity is in a historical transit stage. Heading towards a future governed by technology a true game changer for both the private and public sectors.
''Humans are the spark behind technology''
The technology industry is dynamic and ever changing, so there are always new trends on the horizon. Some of them will majorly impact how we live and work, while others will be more subtle. Let' take a look at some of the technologies that were present and some that were like seeing a scene from a movie in real life.
Artificial Intelligence aims to have a major impact on our lives, which will only increase in the future.
Many big tech companies whose exhibitions we visited are investing heavily in AI, which is used in everything from logistics to healthcare.
In the future it will become even more ubiquitous with natural language processing and advanced machine learning. This will enable AI to understands us better and carryout more complex tasks.
2. Even more realistic virtual reality
VR has been around for a few years now, but it is still not quite mainstream. It will change maybe as we speak. It aims to become more realistic, more immersive which will enable it to be used for a wider range of applications.
Blockchain is a technology trend that was quite visible at the venue. It underpins cryptocurrencies like Bitcoin. However, it has also a lot of other potential applications beyond crypto.
We are likely to see blockchain widely used in everything from supply chain management to voting systems.
Work on the next generation of mobile network technology has begun. Is set to transform how we live and work as it offers much faster speeds and lower latency than 5G ( which is still not in common use). It is ideal for video streaming and gaming apps
5. Xpeng entry into Dubai market planned for 2024
The world's first flying car had its first test flight during Gitex. It ran for 90 minutes and was conducted by the Dubai International Chamber.
The eVTOL X2 manufactured by Chinese electric vehicle company Xpeng took off from Skydive Dubai.  The XPeng company's Electric Vertical Take-off and Landing (eVTOL) aircraft X2 is a two-seater car, which is about 5 meters in length. Its width is 4.78 meters and height is 1.36 meters. On a full battery charge, you can stay in the airup to 35 minutes at a time. It can fly at speeds of 130kmph. 
"The futuristic two-seater eVTOL flying car X2 is equipped with an intelligent flight control system and autonomous flight capabilities and is the latest generation of flying cars developed independently by XPENG's affiliate XPENG AEROHT," states the Emirates News Agency.
Gitex 2022, spotlight on our travels
We arrived quite late on Sunday. Around 11pm we got to our rooms. We had just enough time to freshen up and catch up on sleep before  getting ready for our first day at GITEX. We ended up admiring the views of the city from our rooms, adding all that extra excitement before the event.  In the morning we all agreed that it was one of the best sleeps that we had ever had. Even though it was only for a  few hours. Not sure whether the lack of sleep was caused by the new climate, the atmosphere or simply by our curiosity of Gitex and Dubai itself.
I suppose I don't  have to mention the weather conditions there. Getting to the World Trade Centre in Dubai wasn't as bad as we prepared for after all. Aircon was our best friend throughout the whole stay.
Nevertheless, after we got off the tube station the scale of the event became obvious…it was massive. Despite the queues and security checks just before the entrance people were surprisingly patient. A world away from what we are used to.
We were all overwhelmed with what we experienced at the venue. The size of GITEX was comparable to a sort of labyrinth and getting to our meetings on time in different halls was a bit of a challenge at first….but we absolutely loved it. 
The atmosphere was a motivation, as we spoke with many companies of different sizes. Some of them were just approaching as we were walking pass with our Inspeerity t-shirts on:
''I really like your t-shirts. So catchy! Where are you guys from and what software do you do''? This is how some of our conversations started.
Other connections were made on our Polish stand where we also met our fellow friends who could share some cultural tips with us like: "In place of a handshake, you can place your right hand over the heart''
With GITEX Global 2022 taking a deep dive into the digital universe with seven events running simultaneously- these include AI Everything, North Star Dubai, Fintech Surge, Future Blockchain Summit, Marketing Mania, Global DevSlam, and X-VERSE there was no space for dullness. It felt almost like discovering new lands every day.
With so much going on, it's no surprise we were averaging 23,000 steps each day.
In some way Gitex was the exact reflection of Dubai itself. In terms of diversity, atmosphere, surprising turns and breathe taking views. Even the streets where you feel constantly honked at but yet so safe and where everything runs smoothly was a reflection of our time.
Meet us at the next events
Breaking down the GitEx team
Discover the latest updates from the 10th Spring IO Conference in Barcelona. From GraalVM to CRaC, dive into the future of Spring Framework.
Read More »
Get ready to clear your throats and practice your public speaking skills because Proba Mikrofonu 8 is here!
Read More »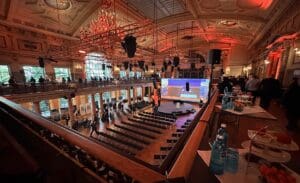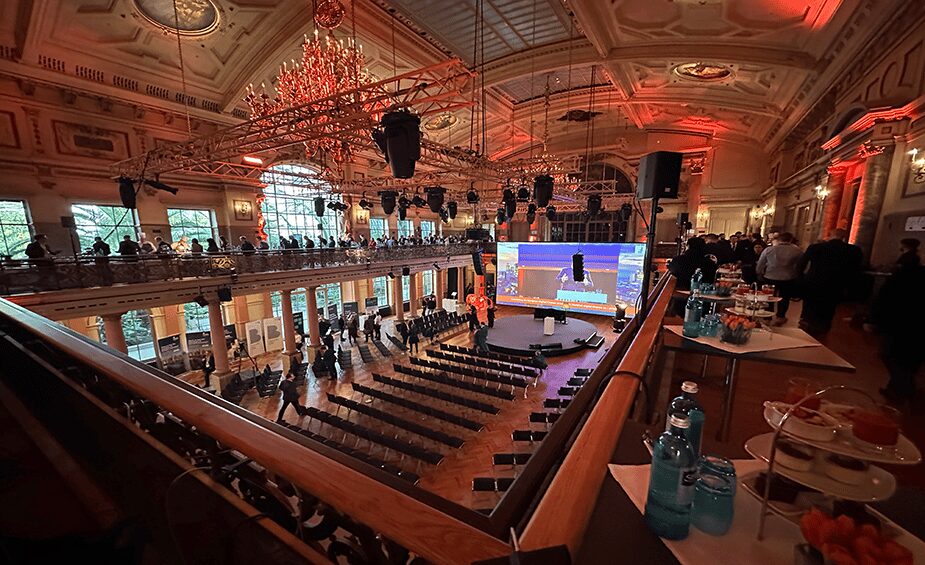 With the financial landscape set to change, here are three trends that you should know from the Frankfurt Digital Finance Conference.
Read More »